Lyd2-069 - Welsh Highland Railway

---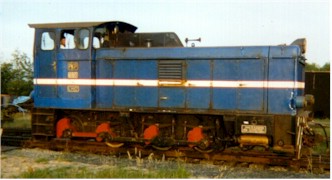 Lyd2-69, at Gelerts Farm Works on the WHR, June 1996
Lyd2-69 was built in 1980 for the Polish State Forests (LP), and was allocated the number 'LP 8'
After being stored for 3 years, LP decided that the locomotive was not suitable for its railway, and sold it to PKP, it becoming Lyd2-069.
No 69 was allocated to the Witaszyce shed of the Jarocin Railway along with No 60 & No 58, and was the last locomotive to run on the system in 1991.
Some time after arriving at Witaszyce, No 69 was involved in an accident we now know that this involved falling off of a bridge ! The dent in the top of the bonnet can still be seen.
1987 saw No 69 sent back to Romania for a full overhaul and received a new engine at this time, although, they did not do any body work on the damaged bonnet.
No 69 was shipped from Poland and arrived at the WHR on 21st September 1993.
Although No 69 was still operational when the Jarocin closed, she was in a slightly worse state of repair than No 60, and work was not started on her until 1995. In October 1995 No 60 & No 69 were seen together again, working double-headed trains on the WHR Gala (Dirty Chappies 2)
In June 1996 Lyd2-069 worked the services on the WHR in what is now the annual Lyd2 week.

---
Lyd2-069 and train awaits its passengers at a station on the Jarocin Railway in Poland

Lyd2-069 and train awaits its passengers at Gelerts Farm on the WHR

Lyd2-069 is re-fuelled on a rainy day at Gelerts Farm
---