Lyd2-60 "Eryri" - Welsh Highland Railway
---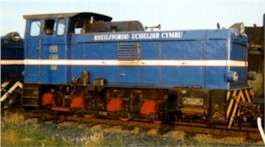 Lyd2-60 'Eryri' at Gelerts Farm Works on the WHR, June 1996
Lyd2-60 was built in 1977 for PKP for the Jarocin Railway in Poland, and biased at Witaszyce Shed.
After closure of the Jarocin System, No 60 was eventually brought by The WHR in July 1993.
No 60 hauled its first train on the WHR at the Autumn Bank holiday Gala, pulling a demonstration freight train.
On 23 October 1993, No 60 was named "Eryri" and on that weekend entered revenue earning service on the WHR, pulling all the passenger trains that weekend.


Photo: Dave Allan

Note: Lyd2-60 was the first Polish Diesel Locomotive to be preserved outside Poland.
---
During 'Dirty Chappies 2' in 1995, Lyd2's 60 & 069 travail light engine past Gelerts Farm

Lyd2-60 pauses at Gelerts Farm during Lyd2 week in 1995

Just after arriving in 1993 Lyd2-60 is being shunted at Gelerts Farm. (note it has not yet received the name 'Eryri')

The Day after be unloaded at the Welsh Highland, Lyd2-60 is propelled dead across 'Hoppies Bridge' on a gauge testing run.

The same day and Lyd2-60 makes it to Porthmadog Station
---