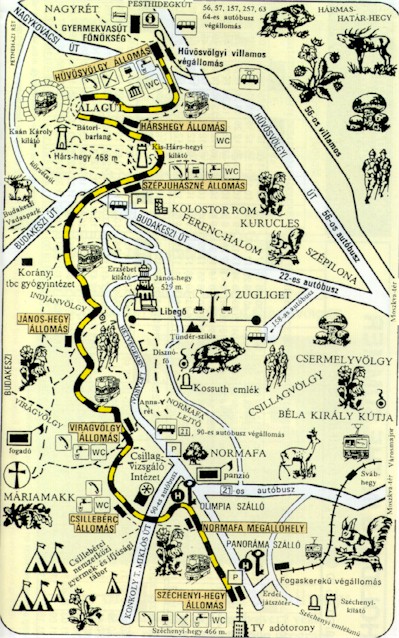 The construction of the Pioneer Railway was started at Szechenyi-hegy on llth April 1948. It is almost unbelievable that the first 3,1 km length stage to Viragvolgy (used to be 'E1ore') was finished within 66 working days. The first train started from Szechenyi-hegy with an opening celebration on 31st July 1948.

The construction went on quickly so in 1949 the second stage was opened.

The whole track was finished on 19th August 1950. The Hars-hill caused a lot of trouble: the construction workers had to build two viaducts and a 198 m length horseshoe-shaped tunnel.

The Railway Workshop at Huvosvolgy has been working since 1951. One of it's attractions is a turntable. The length of the whole track is 11,2 km and with a 20 km/h speed the trip takes 45 minutes. During this short time passengers can take pleasure in the beautiful woodland scene and observe the children on duty who are only 10-14 years old but take responsibility for working as cashier, pointsman, ticket inspector or traffic manager. This narrow gauge railway is controlled by children since the beginning, but - of course - under supervision of adults.

The name was changed from Pioneer's Railway to Children's Railway in 1990 but the tasks are the same: to transport passengers and to familiarise interested children with the railway system.

Since 1995 finding financial support for the children is the task of the Foundation for the Children's Railway.