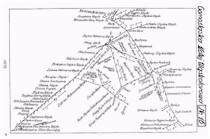 The first section of this system opened in 1854 to the unusual gauge of 785mm. This dimension came about through the Prussian 'zoll' (inch) being 26.15mm, slightly larger than the British inch of 25.4mm. Therefore, while the British 2 foot 6 inch (or 30 inch) lines were 762mm gauge, the Prussian equivalent of 30 zolls came to 785mm.
In 1989 there were 162km of lines (in 1959 there had been 188km), on which were carried 132,216 passengers and 2,322,587 tons of freight. Although the system was always fundamentally a freight railway (the only public passenger services were on the Gliwice – Rudy – Raciborz line and these finally ceased in 1991), a timetabled 'tourist' service has run on part of the system in recent years. Freight traffic appears to have ceased in about April 2001, but the summer trains continued to operate. A Romanian railcar arrived in May 2001, in connection with a proposal to operate passenger services on part of the remaining line. Negotiations over the future of the line finally made some progress and summer passenger services have recommenced.
On the former Gliwice – Rudy Raciborz line a preserved railway is finally taking shape at Rudy, with trains believed to be on offer at weekends through the summer between Rudy and Stanice (about 4km) and between Rudy and Paproc (about 2km).
The system is described very fully in Krzysztof Soida's book "Koleje Waskotorowe na Gornym Slasku". Volume 1, ISBN 83-85831-82-7, was published in 1995. While the text is in Polish the index, summary and titles to tables and illustrations are also in German. As well as the text in Part 1, there is a series of sheets of plans of stations and so on in Part 2. Volume 2, ISBN 83-912575-0-9, has recently been published and deals with the technical aspects. Volume 3 is a huge photo album, ISBN 83-904079-6-5, published by EMI-PRESS in 1999. From the same author is "Kolej Gliwice Trynek – Rudy – Raciborz", ISBN 83-904079-2-2, also published by EMI-PRESS.
Far more information and pictures are to be found at:
Jakub Halor's in-depth site (in Polish and English): http://rtr.dttransporte.com/~jakub/